John Mitchel
LtCol, USAF (Retired)
Lieutenant Colonel Mitchel has a valid claim that he is "The Conscience of the Ohio GOP."  In the 1998 General Election he opposed Bob Taft for Ohio Governor, taking the opposing position on key issues such as Third Frontier, E-Check, NAFTA and other "free trade" agreements. Each one of these policies has been an abject failure with enormous benefits flowing to the political class.  Other than the mainstream media regurgitating governments' misinformation and propaganda that these programs actually help the citizens, you will hear nothing about these policies. And that would be because they have proven to be no more than taxpayer-funded corporate boondoggles that undermine the citizen class.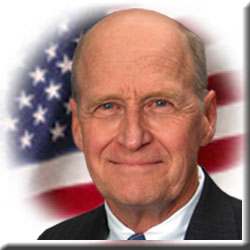 In 2000 as an independent, Mitchel opposed Dave Hobson. In fact, in that campaign Mitch was endorsed by Ohio Right to Life. To our knowledge, this is unprecedented that an Independent candidate received this prestigious endorsement over an incumbent Republican. In 2004 Mitch opposed George Voinovich in the Republican primary and received over 195,000 votes (more than 23%) despite spending less than $300 on his campaign. Rarely has anyone spoken out against Ohio Republicans-in-name-only more often or more loudly than John Mitchel.
John Mitchel and his high school sweetheart Diane were born and raised in Wisconsin.  They were married a year after Mitch graduated from the Air Force Academy, and spent 22 years on active duty. Mitch and Di were first assigned to Wright Patterson Air Force Base in 1980, and since then, except for two tours in California and Texas, they have made their home in Beavercreek. They have three children, all educated in Ohio (Ohio State, University of Dayton and the University of Cincinnati).
Diane is an adjunct instructor at the University of Dayton and Sinclair Community College. She was named one of the top four adjuncts in Ohio in 2002. Diane was primary caregiver for her parents who lived with the Mitchel family in Beavercreek for almost ten years beginning in 1997.
Lieutenant Colonel Mitchel had a distinguished career in the Air Force as an instructor pilot, Department of Defense fraud, waste, abuse, and corruption investigator, Senior Air Force Plant Representative at a major defense contractor facility and Air Force Research Fellow, Project Air Force, RAND Corporation, Santa Monica, CA. Since 2002 Mitch has been employed as a defense support contractor at Wright Patterson AFB.
Mitch earned two Master of Science degrees including an MSBA from Michigan Tech University, and Social and Applied Economics from Wright State.  He holds a certificate in all-source Advanced Technical Intelligence awarded by the Advanced Technical Intelligence Center in Beavercreek, Ohio.  Mitchel wrote and self-published "America at the Abyss: A View from the Heartland" in 2006.